READ@UNI CAMPAIGN
READ@UNI CAMPAIGN
On 29th and 30th April 2019, a two-day "Read@Uni Campaign" was organized by the AIMST University Library in line with the Read@Uni campaign initiative of the Education Ministry of Malaysia for all Malaysian universities. The objectives of the programme were - to cultivate reading habit among university students, increase dissemination of information, and to share knowledge.
The slogan of the program was 'With Knowledge, We Lead.'
Students and staff of AIMST University, and students from 7 nearby secondary schools participated in the program. Students also participated in various quizzes, contests, lucky draws, and other activities, including mini book fairs and a talk on the benefits of reading.
Some snaps of the event are shown below: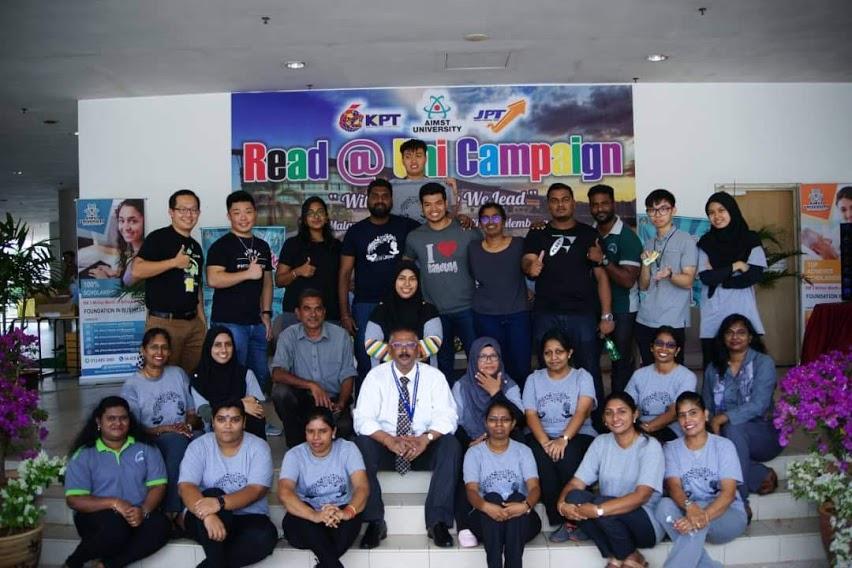 AIMST University Read@Uni Campaign organizing committee members
Students and teachers from schools who joined "Read@Uni Campaign"
Zumba workout conducted by nursing students.
AIMST University Read@Uni Campaign closing ceremony: The campaign was concluded with closing remarks by Hon. Col. (CD) Snr. Assoc. Prof. Dr. Kathiresan V. Sathasivam (center), Registrar of AIMST University.